Teaser Tuesday is a weekly bookish meme, hosted by MizB of Should Be Reading. Anyone can play along! Just do the following:
• Grab your current read
• Open to a random page
• Share two (2) "teaser" sentences from somewhere on that page
• BE CAREFUL NOT TO INCLUDE SPOILERS! (Make sure that what you share doesn't give too much away! You don't want to ruin the book for others!)
• Share the title & author, too, so that other TT participants can add the book to their TBR Lists if they like your teasers!
----------------------------------------------------------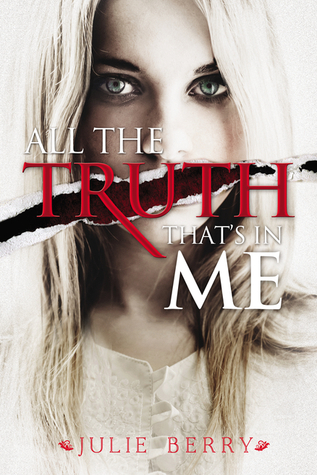 All The Truth That's In Me by Julie Berry
Genre: YA Realistic, Kidnapping
Publisher: Viking (Penguin)
Release Date: 2013
Buy it here: Amazon. Barnes and Noble.
Goodreads Synopsis:
Four years ago, Judith and her best friend disappeared from their small town of Roswell Station. Two years ago, only Judith returned, permanently mutilated, reviled and ignored by those who were once her friends and family.
Unable to speak, Judith lives like a ghost in her own home, silently pouring out her thoughts to the boy who's owned her heart as long as she can remember—even if he doesn't know it—her childhood friend, Lucas.
But when Roswell Station is attacked, long-buried secrets come to light, and Judith is forced to choose: continue to live in silence, or recover her voice, even if it means changing her world, and the lives around her, forever.
This startlingly original novel will shock and disturb you; it will fill you with Judith's passion and longing; and its mysteries will keep you feverishly turning the pages until the very last.
Excerpt:
"She buries her face in his neck and sobs into his ear. He flops an arm around her.
Everyone averts their eyes but you."
(Hardback, pg. 86)
What are you reading right now?