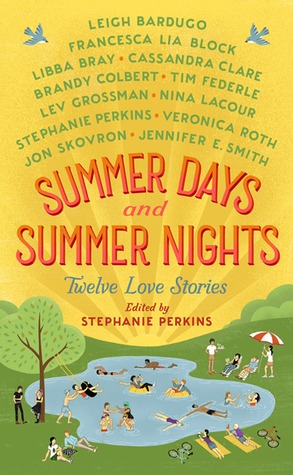 Summer Days and Summer Nights by Stephanie Perkins + Others
Genre: YA Romance Anthology
Publisher: St. Martin's Press
Release Date: May 17, 2016
Buy it here: Amazon. Barnes and Noble.
Goodreads Synopsis:
Maybe it's the long, lazy days, or maybe it's the heat making everyone a little bit crazy. Whatever the reason, summer is the perfect time for love to bloom.
Summer Days & Summer Nights: Twelve Love Stories
, written by twelve bestselling young adult writers and edited by the international bestselling author Stephanie Perkins, will have you dreaming of sunset strolls by the lake. So set out your beach chair and grab your sunglasses. You have twelve reasons this summer to soak up the sun and fall in love.
Featuring stories by Leigh Bardugo, Francesca Lia Block, Libba Bray, Cassandra Clare, Brandy Colbert, Tim Federle, Lev Grossman, Nina LaCour, Stephanie Perkins, Veronica Roth, Jon Skovron, and Jennifer E. Smith.
Why?:
I haven't been reading as many anthologies lately as I used to, but there are still a couple that catch my attention. I read the Christmas anthology edited by Perkins and loved it, so of course I will be picking this one up. I love that the cover is in the same theme as the previous one, since it shows the actual characters on it and is so charming. There aren't as many authors that I follow in this one, sadly, but I still hope it's just as good.
What's on your list?